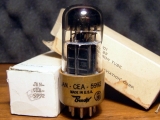 5992 BENDIX - Special 6V6
Made in USA by Bendix
Very very high quality audio tube, super construction. Long life and very stable working.
This type is one of the best of 6V6's family. Can be direct replaced.
Note: Cathode warm-up time = 45 seconds. Very save.
Nos in original box. Matched pair and quad are available.