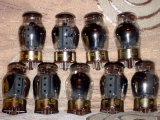 6550 Version 4 - SYLVANIA (Original from Tung-Sol)
Made in USA by Tung-Sol (1967 - 1971).

Three holes on gray plate with Triple O-Getter. Last version from Tung-Sol ever made.
This version has been produced by General Electric in the same time and they are same quality and out looking. One of famous Power Pentode from USA.
Nos in box. Matched pair are available.