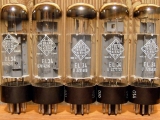 EL34 TELEFUNKEN (set 2)
Made in W.Germany by Telefunken ... (Nos but no box).
Many Telefunken EL34 are reprint from RFT EL34. Only view it clearly you can recognize the differences. This is the best Telefunken tube with Double O-Getter. This type have 2 special symbols next pin 2 & 6 on the base and heat sinks "wing" on plate sides. 5 stapled plate. Matched pair and quad are available. Tested: 50, 50, 51, 51, 52, 52, 53, 53.