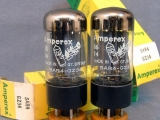 5AR4 / GZ34 (G.Britain - version 2). AMPEREX Bugle Boy
This is the third version with Double O-Getter. Better than single O-Getter version.
They maybe marked as Mullard, Philips, Amperex, Telefunken, Siemens, IEC, RCA, GE... but all of them made in Blackburn of G.Britain by Mullard (late 1960s).
Nos in original box. Matched pair are available.