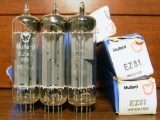 EZ81 / 6CA4 MULLARD - Holland. 45 degree O-Getter
Made in Holland by Amperex.
One of special nine pins full-wave rectifier tube. This is 45 degree O-Getter. 
High output current and small size make it especially suitable for amplifier designs.
Very good for Pre-amplifier.
Nos in original box. Matched pair are available.