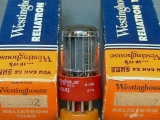 WESTINGHOUSE 5692 Red base
Made in USA by RCA (1960s).
Muddy black plate, Triple mica and Double D-Getter with five supports.
Most of muddy black plate version are made by RCA.
Very warm sweet sound, great on voices and jazz. Long life tube (10.000 hours)
Nos in original box. Matched pair are available.