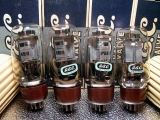 KT66 GEC (Brown Base, Clear Glass)
Made in England by MOV. 
Clear glass, brown base, Bottom double O-Getter. Similar to 6L6GB or 5881. This type is one of the best 6L6s in the World.
This is ORIGINAL KT66 GEC UK. Not some Reissue tubes made in China or Russia.
Nos in original box. Never been used. Matched pair and quad are available.