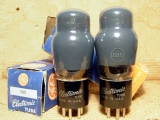 6B5 GENERAL ELECTRIC
Made in USA.
Direct-Coupled Power Triode. Clear glass, black plate.
Used as a class A power amplifier. One triode, the driver, is directly connected within the tube to the second, or output, triode. Similar to 6N6G but requires 6-contact socket.
Nos in original box. Matched pair are available.