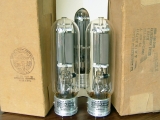 211W / VT-4-C JAN-CUE (UNITED ELECTRONICS)
Made in USA by United Electric (1967)
Special design for US's military under Western Electric's licence.
Bottom Tube-Getter. One of the best of 211s in the world.
Very very hard to find. Very good bandwidth, bass, midrange detail and soundstage.
Nos in military paper box. Opened for take picture only. Matched pair are available.