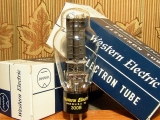 300B WESTERN ELECTRIC
The W.E. 300B is a vacuum tube with a long history of high performance and great sound. These tubes are new and in their original packaging. They were manufactured in Huntsville, Alabamba at the Western Electric plant. They are current production 2006 to 2008. 
Authentic Western Electric tubes - they do have 4 letters W - E - C - O on the bottom. As I know, that mean Western Electric Corporation. New in original box.