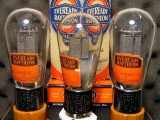 45 RAYTHEON EVEAREDY ER-245 (Stamp Box Plate)
Made in USA by Raytheon (1930s).
The premium of 45 in balloon type. Engrave base. Bottom Cup-Getter
These are the earliest type with "Raytheon" stamped on the black box plates
Super rare version. One of top-five list of most wanted 45s tubes in the world.
Nos in original box. Matched pair are available.