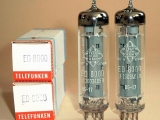 ED8000 TELEFUNKEN <>
Made in W.Germany by Telefunken.
Diamond logo. Super long life triode (10.000 hours) for power supply or audio amplifier an optimal choice for OTL amplifier and to serve high impdence, ~ 200 ohm, and electro-static speakers, such as Quad ESL and Stax Headphones etc.
Nos in original box. Matched pair and quad are available.