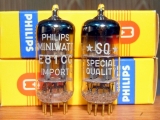 PHILIPS Miniwatt E81CC / 6201 (Pinched Waist, Triple Mica)
Made in Hamburg - W.Germany by Valvo.  
Gold pins, Pinched Waist, Triple mica and O-Getter with double support. Some marked Valvo 6201 with blue print but they are the same. One of three highest grade 12AT7s (GEC A2900, Valvo 6021, Telefinken ECC801S, ). Great bass control and sweet midrange, very musical. Long life tube. Nos in original box. Matched pair are available.