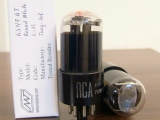 RCA 6SN7GT (Round Plate, Oval mica)
Made by Tung-Sol (1945).
Like the Sylvania Metal base. This is one of the best tube ever made in USA with half smoke glass, Round muddy black plate. Oval mica. Clean, fast, the best in everything, wide bandwidth, great resolution.
Nos but no original box. Packed in white box.