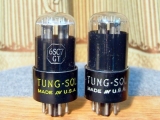 6SC7GT TUNG-SOL (Round Plate, Round mica)
Made by Tung-Sol (1942). Round muddy black plate. Round mica.
This type is used as phase inverter or voltage amplifier in radio equipment. Except for common cathode. Each triode is independent of the other. Requires octal socket and may be mounted in any position.
Nos but no box. Matched pair are available.