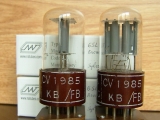 BRIMAR CV1985 / 6SL7GT
Made in G.Britain by Brimar (1960s).
Brown base, round plate, Bottom D-Getter. 
Very nice tubes from UK. Very warm and immediate sounding. 
One of the nice 6SL7s ever made from EU. All same date code
Nos but no original box. Packed in white box. Matched pair are available.