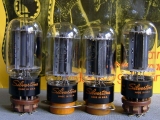 6L6GC - Side Getter SILVERTONE - RCA (Orange print)
Made in USA by RCA (1960s).
The first version of 6L6GC from RCA. Side Getter version, Short tube, Muddy black plate.
Highest power output of 6L6s type. Detail, deep bass, wide range and balance
Very hard to find tube in NOS NIB condition..
Used but tested as NOS tubes. No box. Matched pair and quad are available.