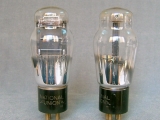 2A3 NATIONAL UNION (Single Plate)
Made in USA by RCA.
Single plate version. muddy black plate, engrave base, Bottom Pan-Getter. 
Supper sounding. One of the best 2A3s in the world. If you think that all 45 tube more musical than 2A3s. You will change your mind after enjoy this version.
Nos but not box. Tested very strong and matched less than 1%.