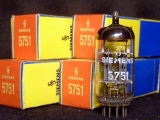 SIEMENS 5751 / E83CC / CV4004 / 12AX7WA (Early Box)
Made in W.Germany by Siemens.
Triple mica and O-getter with douple support. One of the great version from Siemens. 
Very balanced and detailed sounding. Super low noise and quiet. Great for Phono.
One of the best 12AX7s. Hard to find today.
Nos in original box. Matched pair and quad are available.