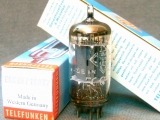 TELEFUNKEN <> ECC83 (Smooth Plate - Third Type)
Made in W.Germany by Telefunken.
Diamond logo on the bottom. The third type is similar to the first version but has 3 holes on each side of plate (top, middle & bottom). Large print logo version.Warm and balance sounding.
Nos in box.