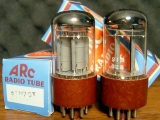 BRIMAR 13D2 - Special 6SN7GT
Made in England by Brimar (1960s).
Same as GEC B65. This version which was outstandingly special made for British's Military. Brown base, Round gray plate, Triple mica and Double O-Getter. Super rare version. Hard to find today. Best of 6SN7s ever made by Brimar. One of the best 6SN7 ever made in England. Nos in ARC box. Never been used. Matched pair are available.